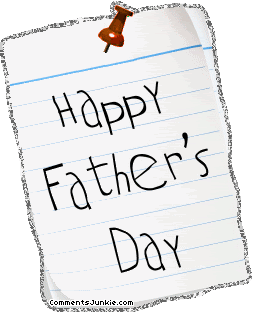 Just want to wish my sweet husband out there a very happy father's day. He is sleeping today so he can work tonight and i just want to tell him that he is a great dad. He supports us so well, loves his children, hardly ever complains even when it's tough not too, gives his girls hugs and kisses their elbows when he needs to.. haha. ( lilly has a thing for saying her elbow or knee hurts and it needs a kiss) I"m just really proud to be married to such a stand up guy.
Also happy father's day to both of my daddyroo's.. lol. I think that i'm blessed to be able to have a good relationship with both of my "father's" mike and byron. They have both been there in different ways over the years and i'm thankful for both of them. love you all!
I"m going to go pick up emma today and have some fun with her. I htink we may try to go to the zoo sometime while she is here. Allan wants to plan something for his three days off but so far lilly has a dental apt and emma has a doctor apt and they are on different days. lol..
Here are some pictures of lilly. I'll take some more of her and emma after we get emma. It's just hard to get them to stay still together.. it's usually one or the other is being still. lol.
Below is a new toy we gave to emma for her birthday .. lilly really loves it. lol it took forever to blow up though so i don't want to deflate it quite yet.